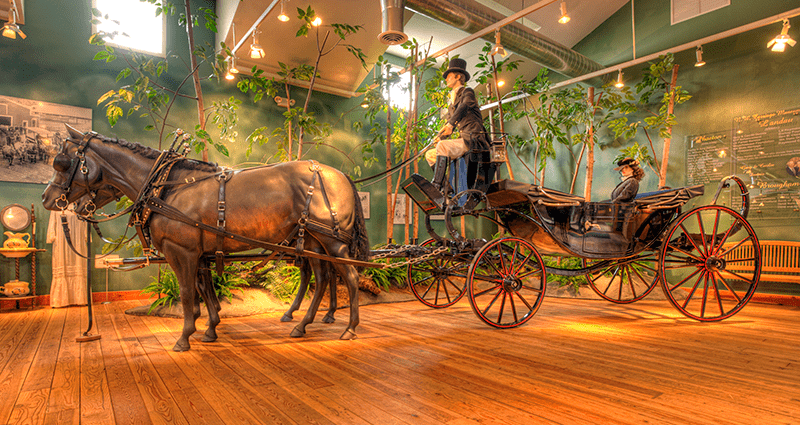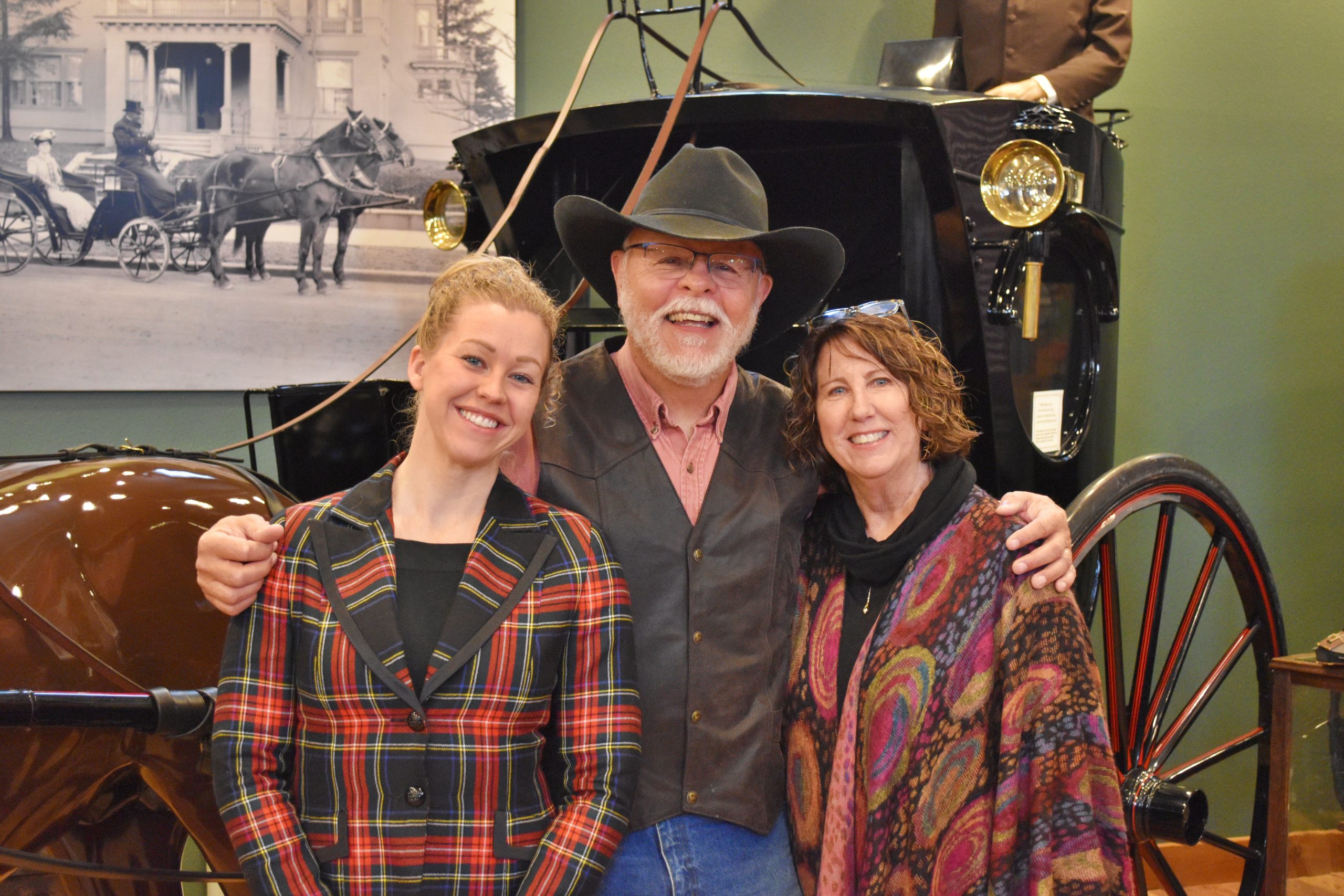 Bowmans and Anna
About
Northwest Carriage Museum 
History
The museum opened in 2002 with 21 horse-drawn vehicles. Throughout the years, as we acquired more vehicles and artifacts, we needed to expand our display space! In 2015, the new "Barn" addition was opened to house our work-related vehicles. The current collection of over 60 vehicles and related artifacts is truly one of the finest in the country. The museum has become Pacific County's largest year-round tourist attraction and is considered a "MUST SEE" for visitors to the Pacific Northwest.
Restoration/History
The museum has become an information resource center for horse-drawn related restoration and historical information.
Many vehicles in the collection have been fully restored to their original elegant beauty. Other vehicles have gone through a "conservation" process where original paint, pin striping, trim (upholstery) and lettering are saved and preserved.
Determination as to restoring versus conserving is based on many factors including condition, historical significance, labor and costs. Since our collection contains both restored and conserved vehicles, visitors get the best of both worlds… Come take a look!
Board of Directors
Laurie Bowman, Executive Director
Jerry Bowman, President of the Board and Curator
Don Corcoran
Donna Franks
Chris Halpin

Mike Sowa

Paul Stazel
Pam Sowa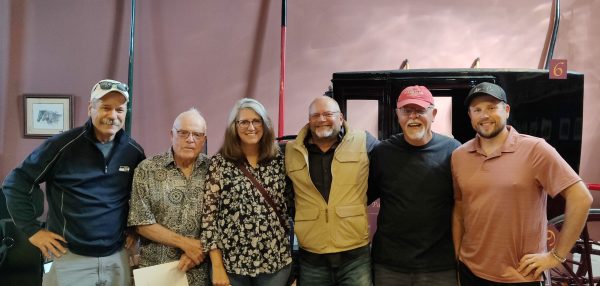 From Left: Chris Halpin, Don Corcoran, Pam Sowa, Mike Sowa, Jerry Bowman, Paul Stazel
Mission
The Northwest Carriage Museum preserves, maintains and interprets a collection of horse drawn vehicles and period artifacts of the 19th-century, creating a cultural experience for all visitors.
2022:  20th Anniversary
The museum opened in 2002 with 21 vehicles. Since then, the Museum has expanded to 62 vehicles.
"It's grown to be so much bigger than what it first was," [Director] Laurie [Bowman] said. "When we first came in, we saw this little perfect museum and we thought we could grow this place and that's what's happened. We are so proud of what the museum has become. I'm so inspired that we've grown it to add so many vehicles.
The museum is open year-round from 10 a.m. to 4 p.m., except for Thanksgiving and Christmas. The Bowmans also offer museum tours outside of normal business hours to those who are interested.
"It's the largest tourist attraction in Pacific County. We have the only visitors' center open year-round. We have people here all the time and we're really proud of that. We're bringing a lot of people to Pacific County,"        –Curator Jerry Bowman
 Vision
We are home to over 60 beautiful horse-drawn vehicles including carriages, buggies, wagons and sleighs, and  hundreds of historical artifacts that help bring history to life!
We are dedicated to keeping history alive for future generations, educating about horse-drawn transportation, restoration and conservation of the vehicles and supporting our local community. 
The museum is a nonprofit 501(c)3 organization so your donation may be tax-deductible (Tax ID Number #91-2027251); consult your tax preparer for more information. In accordance with state recommendations for nonprofit organizations, we present our Federal 990s: 2020|2021|2022
Mentions  (See also Video)
Chinook Observer
See the Northwest Carriage Museum through artists' eyes: "The Northwest Carriage Museum has just concluded its first-ever art competition."
Seattle Times Museum Guide
"Step back in time at the Northwest Carriage Museum, known for having one of America's best collections of 19th-century, horse-drawn vehicles."
Travel Awaits
"A visit to the Northwest Carriage Museum is a must. This museum is such a surprise as it has one of the best collections of horse-drawn vehicles in the United States and carriage aficionados come from all over to view this amazing collection."
Jerry Bowman Interview on the Horses in the Morning Podcast – click for full episode

Jerry discusses the highlights and history of the Museum and our vibrant community in this 14-minute clip on Horse Radio Network.
Our Coast Weekend
Rollin on: Northwest Carriage Museum celebrates 20th year
Northwest Travel & Life
The Northwest Carriage Museum, located on the Willapa River in Raymond, Washington, is celebrating its 20th anniversary in 2022.
Scenic Washington
The Northwest Carriage Museum Celebrates 20 Years of Transporting Visitors Back in Time
Chinook Observer – Long Beach, WA
Horse-Drawn History: Museum brings visitors to Pacific County to experience glories of the past.
Chinook Observer —  Long Beach, WA
"Jerry Bowman describes himself as a 'sponge' for knowledge about history, especially the Civil War era. He will speak at an international conference for carriage enthusiasts in Washington, D.C., in January."

Daily World —  Aberdeen, WA
"'After a very surreal 2020, we wanted to "think outside the box" … and do our part in encouraging people to support all of our local businesses and families,' stated Bowman. 'We approached several of our business members with the idea and the response was fantastic.' she added. The new program is for new members joining the museum, said Bowman."
Seaside Signal — Seaside, OR
"Jerry Bowman took listeners on a journey to the past — to a time of horse-drawn transportation, $6 gold watches, and jeans for less than a buck — during his presentation about the Northwest Carriage Museum during History and Hops on February 27."
Daily Astorian — Astoria, OR
"A horse-drawn road grader, a mail cart, a running gear and other working-class vehicles have a new home next door to elegant luxury carriages as the Northwest Carriage Museum's addition opens to visitors."
Confetti Travel Cafe — Travel Blog
"The Northwest Carriage Museum is a trip that should be made by vehicle buffs, history buffs, kids and families, and techie and engineering buffs. It's also for just about anyone else who can appreciate a good story — because there are many here."
Washington Coast Magazine
"Probably the thing we hear the most from visitors is 'What is a world-class museum like this doing in Raymond?' " Bowman said. "Recently, one fellow who was visiting with his Porsche club from Seattle told me, 'If this were in Seattle you would be drawing about a half million people a year.'
"I told him, 'I know, but I'm glad we're in Raymond.' "
Gypsy Journal — RV Traveler's Paper
"The Carriage Museum has a wonderful collection of antique horse-drawn carriages, including several that were used in movies."
The Astorian — Astoria, OR
"Jerry Bowman begins each tour by eagerly creating a perspective for what life was like in the late 1800s. He draws visitors into the time period with the infectious manner in which he shares stories and examines the characteristics of each carriage."
Chinook Observer — Long Beach, WA
"Carriage Museum creates space for vehicles that earned a living."
Worldwide Wheelwright — Banks, England
"Master Wheelwright Phill Gregson visits the Northwest Carriage Museum." 
King5 News
"Once dubbed "the gilded palace of excessive extravaganza" by a local newspaper editor back in 1910, the Pacific County Courthouse and its colorful glass dome has long been the pride of Pacific County. Now there's something else folks around here are getting excited about, The Northwest Carriage Museum in Raymond." 
South Sound Magazine — Tacoma, WA
"Time Travelers: Unique history lessons await at the Northwest Carriage Museum"
Seattle Times — Seattle, WA 
"In the movie "Gone With the Wind," Belle Watling, the bawdyhouse madam…asks Scarlett O'Hara's friend Melanie — who married Ashley Wilkes, remember? — to step into a horse-drawn carriage for a chat…Watling's fancy Shelburne Landau carriage, with its fully enclosed cab, was perfectly suited to such a tête-à-tête. If you have any doubts, go see it for yourself, at the Northwest Carriage Museum in Raymond, Pacific County."
Stark Insider — San Jose, CA
"After spending almost two riveting, fun-filled hours there, I can't thank Carol enough for turning us on to this hidden gem. This magnificent museum is filled with one of the world's finest collections of impeccably restored, (I dare say Smithsonian caliber) 19th century horse-drawn carriages, wagons and buggies. All 28 were buffed, polished and painstakingly restored to their former elegance."