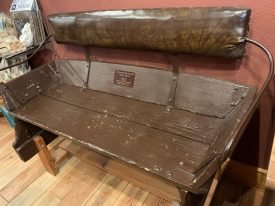 Our old wooden wagon seat is an incredible piece of Washington State history.
The Longacres Racetrack in Renton was founded in 1933 by Seattle Real Estate magnates Joseph Gottstein (1891-1971) and William Edris and designed by B. Marcus Priteca. The track's storied history is amazing. State legislation allowing pari-mutuel betting was passed in early 1933 and signed into law by Gov. Clearance Martin on March 13, 1933.
The track closed to live racing on September 21, 1992. The Seattle Post-Intelligencer reported, "Before the last race, announcer Gary Henson told the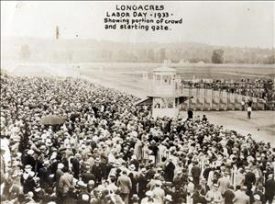 crowd, 'These horses belong to you. Listen to their final thunder.'" Then, for probably the first time in track history, the race was run in silence, without Henson's customary calls (September 22, 1992). More than 23,000 fans crowded the stands to see Native Rustler, ridden by Gary Stevens, win the final race.
For many years, our wagon seat was part of the decor in the jockey's locker room. Over the years, hundreds of jockey's used the seat for "booting up" before a race.  The seat was removed during demolition of the track and was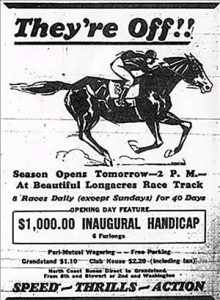 in a private collection until gifted to our museum several years ago. Oh… if that seat could talk!